Intro to Water Volleyball
Water volleyball is a great alternative to traditional beach volleyball. It's perfect for people who want to get some exercise and have some fun playing volleyball but don't want to deal with sand. Water volleyball is a lot of fun, and it's easy to learn how to play. All you need is a water volleyball set, a pool or any other body of water, and some friends!
In this guide, we'll teach you everything you need to know about water volleyball sets. We'll cover the different types of sets, the sizes available, the prices, and the features of each set.
We'll also give you a list of the 7 best water volleyball sets on the market. So whether you're looking for your first set or just want to learn more, keep reading!
What is a Water Volleyball Set?
A water volleyball set is a collection of the most important equipment that you'll need to play water volleyball. It typically includes a net and posts, but lots of sets also come with balls and other accessories. Unlike other sports equipment and volleyball sets, water volleyball sets are specifically designed for use in swimming pools, lakes, or other bodies of water.
What to Consider in a Water Volleyball Set
When looking for a new water volleyball set, there are many things to consider. This guide will help you find the best set for your needs. First, decide what type of set you want. There are three types: portable nets, in-ground sets, floating sets, and wall mounts. Portable nets and floating nets are the easiest to set up and takedown, but they are also the least sturdy. In-ground sets are the most durable, but they require installation. Wall mounts are a good option if you have limited space.
Next, consider the size of the set. Sets come in different sizes to accommodate different numbers of players. If you plan to play with a lot of people, you'll need a larger set.
Finally, consider the price and features of each set. Sets can range in price from around $30 to over $150. Some sets come with extra features like carrying cases or anchors. Others have built-in goals or lights for night play. Choose the set that fits your needs and budget!
Now that you know what to look for, let's take a closer look at each of our picks for the 7 best water volleyball sets.
---
Option 1 – Best Choice for In Ground Pools
GoSports Splash Net PRO Pool Volleyball Net (Includes 2 Water Volleyballs and Pump)
We highly recommend the GoSports Splash Net PRO Pool Volleyball Net as our top choice for an in ground swimming pool volleyball set. This set includes an adjustable volleyball net with posts, 2 water volleyballs, and a pump – so you can start playing right away. The net is compatible with virtually any inground pool and features sturdy weighted bases that keep it upright and stable even in rough waters and windy days. The balls are tough and hold up to chlorinated water and rough play, while the anchors and weighted bases help to keep the net from drooping. This is definitely not the cheapest option out there, but we think the extra money is worth the quality.
In most cases, attaching the net to the pool will make the most stable and permanent net. It fits almost every swimming pool in-ground shape — rounded as well as rectangular. Net straps have varying widths up to a maximum of 25 feet, allowing you to adjust them snugly over pools, whatever the shape. The pool net is specifically designed so that it will be washed by pool water while the game is played, keeping the net clean. When filled with water or sand the two bases keep the net strong at all times. The colors come in both blue and white.
---
Option 2 – Best for Above-Ground Pools
Poolmaster Above-Ground Pool Water Volleyball and Badminton Pool Game with Bracket Mounts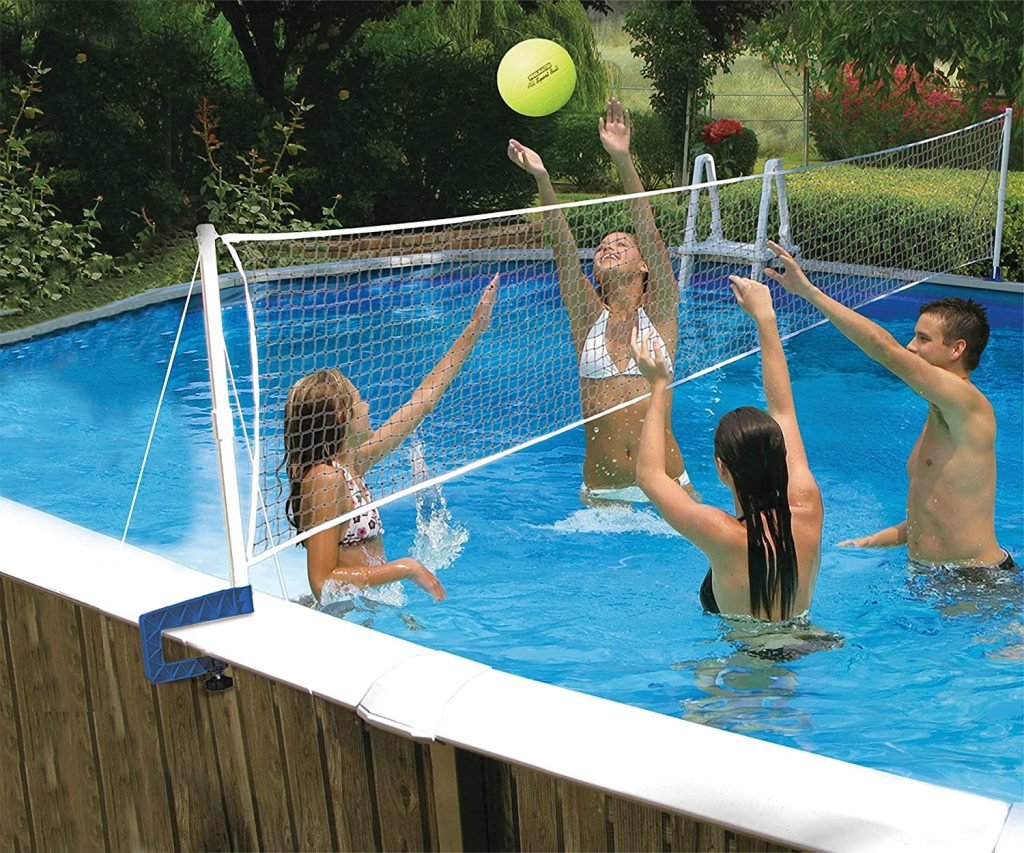 While it is harder to find water volleyball set options for above-ground pools, we think the Poolmaster Above-Ground Pool Water Volleyball and Badminton Pool Game with Bracket Mounts is a good one to consider. This game set includes everything you need to play a rousing game of water volleyball or badminton, including a 16-foot volleyball net with 10-foot side ties, upright poles, and bracket mounts that attach to 4-inch or wider top rails. The net bracket mounts are also portable so you can adjust them to fit any above-ground pool. And don't worry about losing your ball or birdies – they're included too. The net is definitely the best part of this setup and what you should focus on — the badminton game and water volleyballs are serviceable but it would be best to look at upgrading or supplementing with your own water volleyball.
---
Option 3 – Best for In-Ground Pools
Poolmaster Across In-Ground Swimming Pool Volleyball Pool Game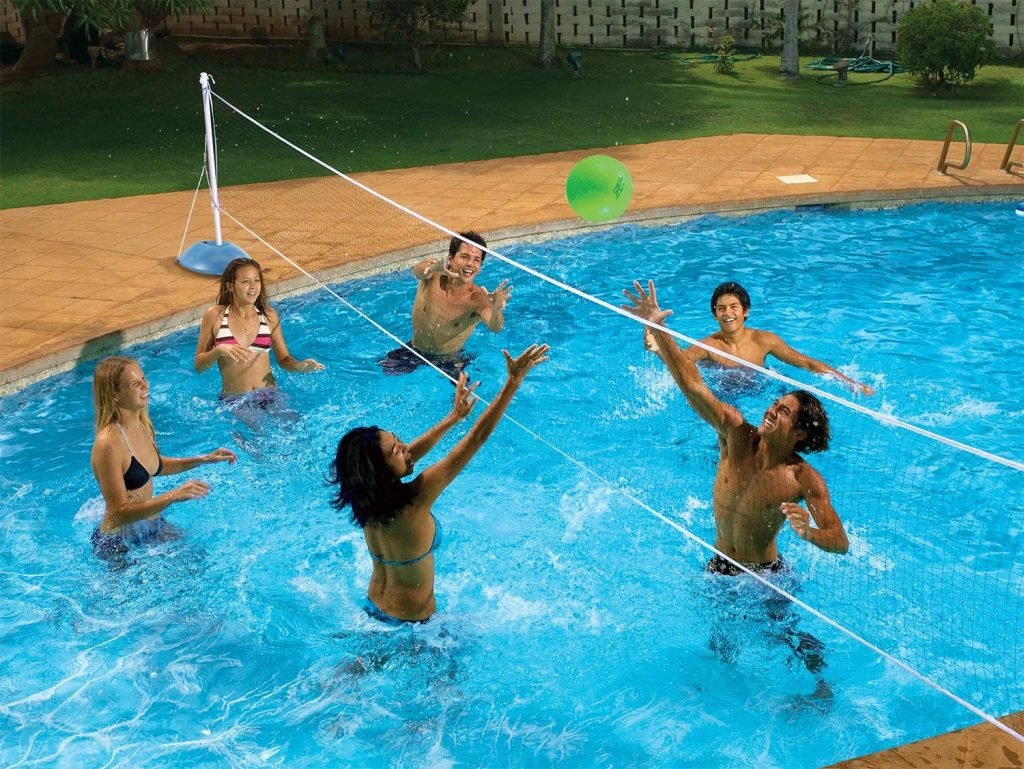 The Poolmaster Across In-Ground Swimming Pool Volleyball Pool Game is specially designed for across-pool volleyball games and includes a net, bases, and a deluxe ball with an inflating needle. The net pole bases can be filled with water or sand for poolside stability (sand is preferred as an anchor weight for the strongest additional net tensioning), and the portable volleyball game can be played on water, land, sand, or dirt – making it perfect for any occasion and offering a lot of flexibility. The set includes two 30-inch posts, inflatable ball with inflating needle, the net reaches a maximum width of 16 feet to meet a true regulation size. The balls in this set are the only disappointing part — we'd definitely consider buying a stand-alone water volleyball to go with this set as the included ball is just OK.
---
Option 4 – Best for Floating
Joyin Inflatable Pool Float Set Volleyball Net & Basketball Hoop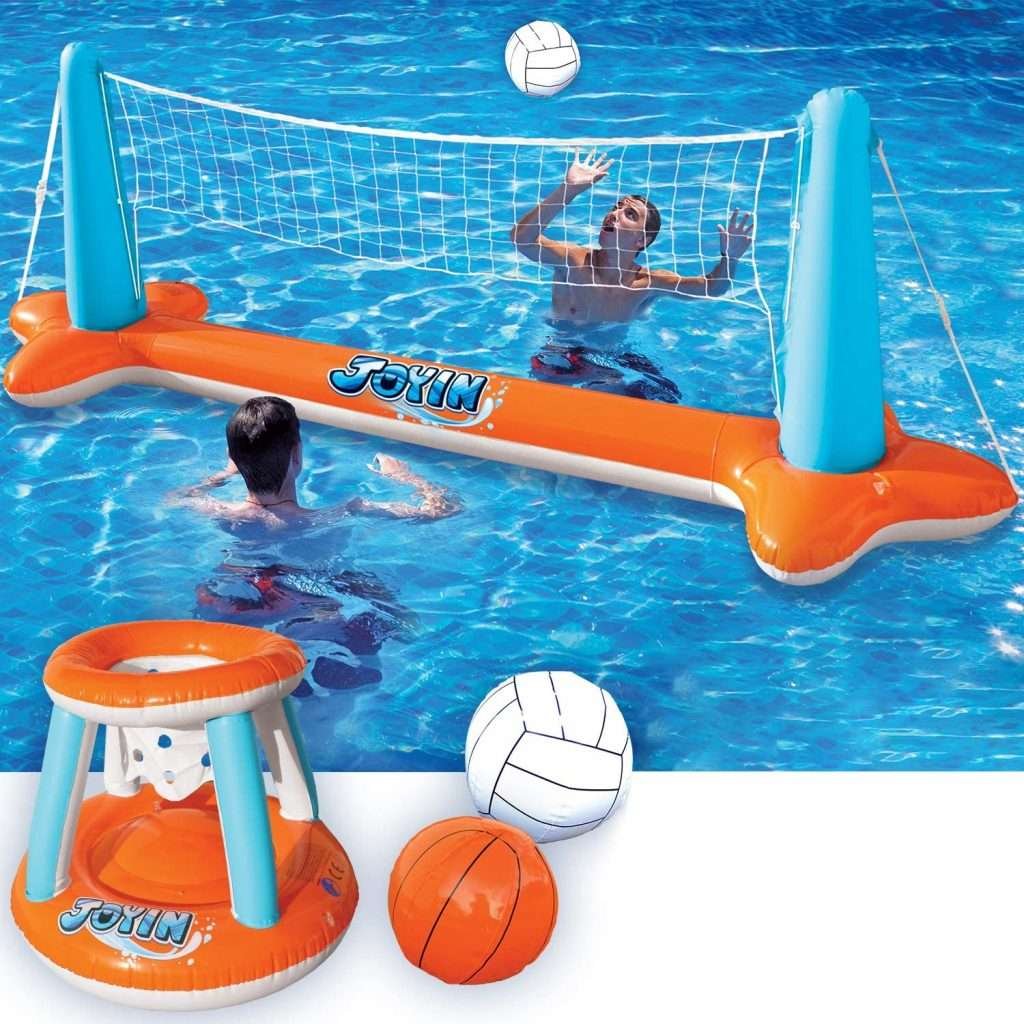 The Joyin Inflatable Pool Float Set Volleyball Net & Basketball Hoop is a great option that does require almost no setup time besides a quick inflation. This set includes an inflatable volleyball court, net, basketball hoops, and two balls. The court is made of high-quality raft material, has straps for the net, and is perfect for hours of fun in the pool. This is a great option for a pool, lake, or any larger body of water as it does not require any outside net anchors. This set also comes with a floating basketball hoop (it looks like a small tent :>) and a couple of balls too. This item meets the US Safety Standard and is non-toxic. The only potential downside is you will need to check the dimensions to make sure it is a good fit if you have a small pool.
---
Option 5 – Best Floating Set with No Inflation Needed
Swimline Floating Super Volleyball Pool Game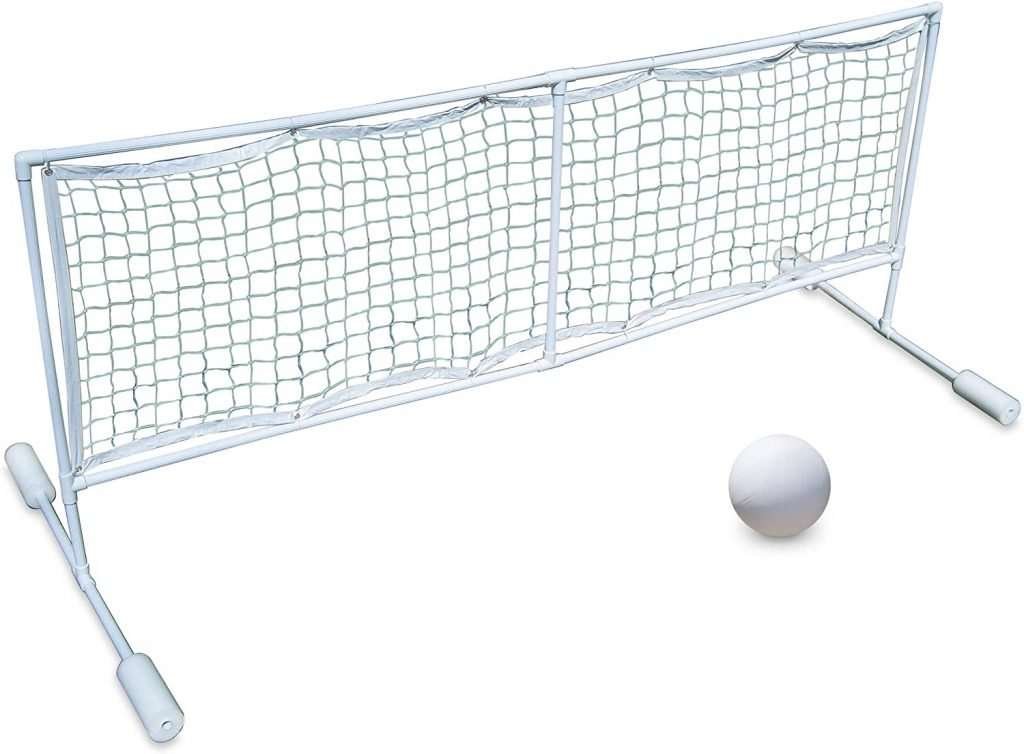 With Swimline's Floating Super Volleyball Pool Game, you can enjoy all the fun of a regular game of volleyball without having to leave the pool or lake. The game ball is made from a real-feel material, so it feels just like playing with a regular volleyball. And thanks to the durable PVC tubing and heavy-duty net, this set should last for several seasons of fun. There is some assembly required to put the net together, but it goes relatively quickly and stays together through some pretty strong play.
---
Option 6 – Best Option for a Tropical Themed Pool Party
iBaseToy Inflatable Pool Volleyball Set – Inflatable Volleyball Net
The iBaseToy Inflatable Pool Volleyball Set is the perfect way to have some fun in the sun at your next pool party. With everything you need to play included (anchor weights, floating net, two posts for inflation, a pair of inflatable balls, and a hoop on each the posts to aid in support), this set is the right size to allow for easy use and storage. Plus, with its colorful design (palm trees or dolphins), it's sure to add some excitement to your party. Made of a thick PVC material of superior quality, you should get a few seasons of it as well if carefully stored. The balls in this set are particularly tough and durable.
---
Option 7 – Best Option for a Nautical Themed Pool Party
MeiGuiSha Swimming Pool Volleyball Set- Water Game Inflatable Volleyball Net with Ball Included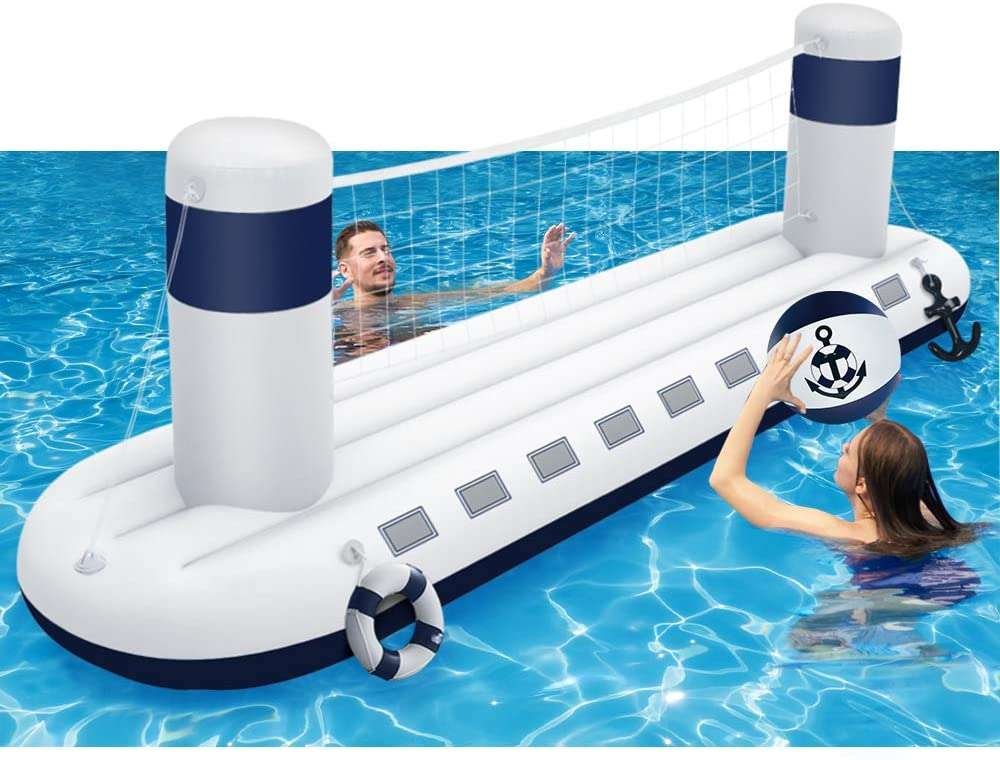 The MeiGuiSha Swimming Pool Volleyball Set- Water Game Inflatable Volleyball Net is perfect for a day by the pool with friends and family, especially those with a naval or nautical interest. :> This set comes complete with an inflatable water volleyball and ship-shaped or lighthouse-shaped net that is 118in long and 39in high, making it easy to play with large groups. Because the net is floating, it will work in a wide variety of environments: in ground pools, above ground pools, small pools, large pools, and lakes. The dense, high-quality materials used in this set ensure strength and durability, so you can safely enjoy hours of fun playing volleyball on or around the water. Anchors away!
---
Tips
Built-in nets make it ideal for homes with large swimming pools and families who frequently use their sets. Inflatable nets make storing the sets much easier at the end of the season. You could deflate them, fold them or store it away until next season's games. Stand-alone or integrated systems offer similar storage ease. Stand-alone poles are smaller compared to built-in poles in that they feature larger and wider bases. Both types require removing poles and removing nets when not in use to make sure that you keep your nets in top shape.
If you want to improve player performance, use the softest volleyball you can find in swimming pools! Your hands will love it and so do younger players who quickly lose interest if the ball is too heavy or hard for them (or anyone really). Inflatable balls are a great place start- try these first before investing more money into other products that may not be necessary or appropriate depending on what type/size court surface area that's being used – but we recommend getting at least two sets because they don't last forever.
Conclusion
So, there you have it! The 7 best water volleyball sets on the market. Whether you're looking for something easy to set up and use or a more festive option for your next pool party, one of these sets is sure to fit the bill. Have fun out there! :>)